COMMODITY

TRADING

Identify and seize opportunities trading commodities with Alchemy Markets. Sign up for an account and trade Oil, Gold, Silver, and more!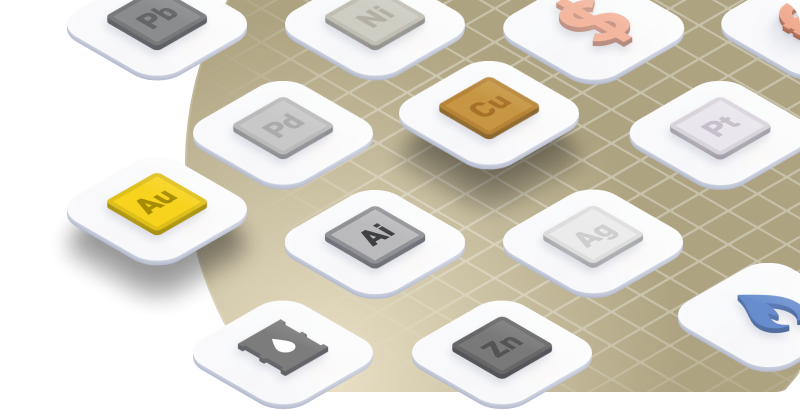 Why Trade Commodities with
Alchemy Markets

?

With Alchemy Markets, you can access your favourite commodities with transparent pricing on award-winning platforms equipped with a superior selection of tools and technical indicators. Enjoy trading with no restrictions and 100% STP execution whenever you want, wherever you want.
Tier-One
Liquidity
Enjoy institutional liquidity from 20+ bank and non-bank LPs. For customised pricing, benefit from bespoke liquidity via aggregation or direct, plus depth of market.
Institutional Spreads
and Low Commissions
Alchemy Markets offers some of the lowest all-in costs for commodities trading. Access tight spreads with zero commissions¹ when you trade your commodities.
Lightning Fast
Execution
Trade anytime, anywhere with some of the fastest execution speeds in the market at <10ms. At Alchemy Markets, retail traders benefit from institutional speeds.
Zero
Trading Restrictions
Manage your trades hassle-free with zero trading restrictions and transparent pricing, including no requotes and no rejections.
Trade
on Margin
Magnify your opportunities by gaining full exposure for a small initial margin deposit on your trades with leverage of up to 100:1*.
Top Notch
Customer Support
Expert support 24 hours a day Monday – Friday, with professional teams available through live chat, WhatsApp, Telegram, or over the phone.
Trade Over
1000+

Products
Across

10+

Asset Classes
How to Open a Trading Account with
Alchemy Markets
Open a trading account with us and tap into commodities trading in no time.
Sign Up
Sign up for an Alchemy Markets CFD trading account in just a few minutes.
Verify your ID
Verifying your identity has never been easier with Alchemy Markets' Automated KYC software.
Start Trading
Fund your account and participate in online CFD Commodities trading from your preferred device!
Deposit &
Withdrawal

Options

Your money, your way. At Alchemy Markets, traders can withdraw and deposit their funds with ease at their convenience using any of our available methods, including Bank Wire, Credit Card, Skrill, Neteller, and UnionPay. Take your pick and fund your account in no time.
And Many More...
Trading Platforms and
Tools
MetaTrader
5
Make each trade count with MetaTrader 5, the next generation multi-asset trading platform! MT5 has 38 technical indicators, 21 timeframes, and up to 100 open charts simultaneously. Trade with 2 market orders, 6 pending orders, build your own algorithms with MQL5, automate your trading with Expert Advisor (EA), and backtest your strategies with MQL5 IDE's Strategy Tester. Our partners can also use the latest PAMM and MAM software for portfolio management. Execute and monitor your trades anywhere, anytime on desktop or on mobile.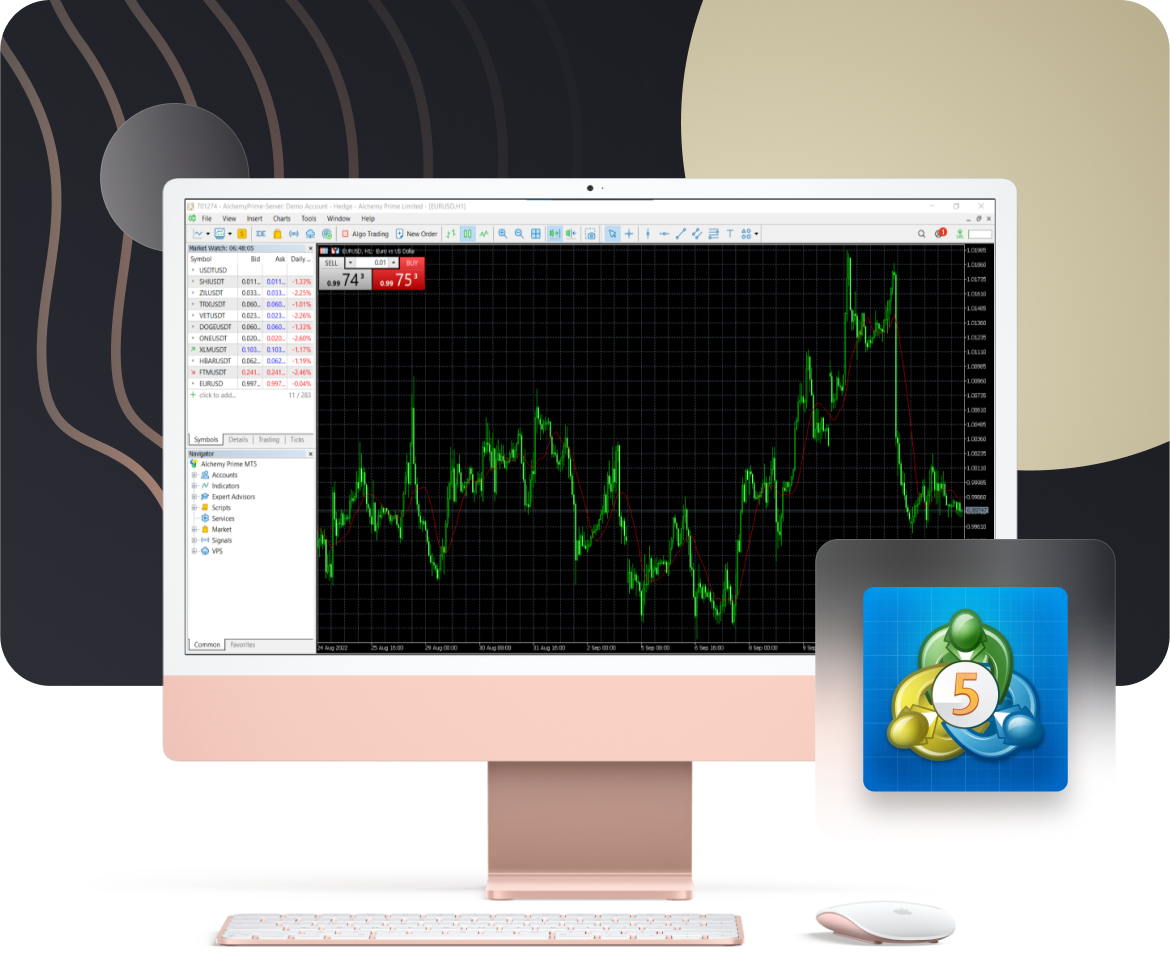 FIX
API
Trade with the very best on FIX API 4.4! Connect to global liquidity directly and integrate with any trading platform or GUI. Enjoy ultra-low latency and high-speed trade execution at <10ms with state-of-the-art hosting at the Equinix LD4 data centre near London, a disaster-recovery solution, and DDoS protection. We offer institutional raw spreads and a sliding scale commission based on notional volumes so high-frequency traders can save more.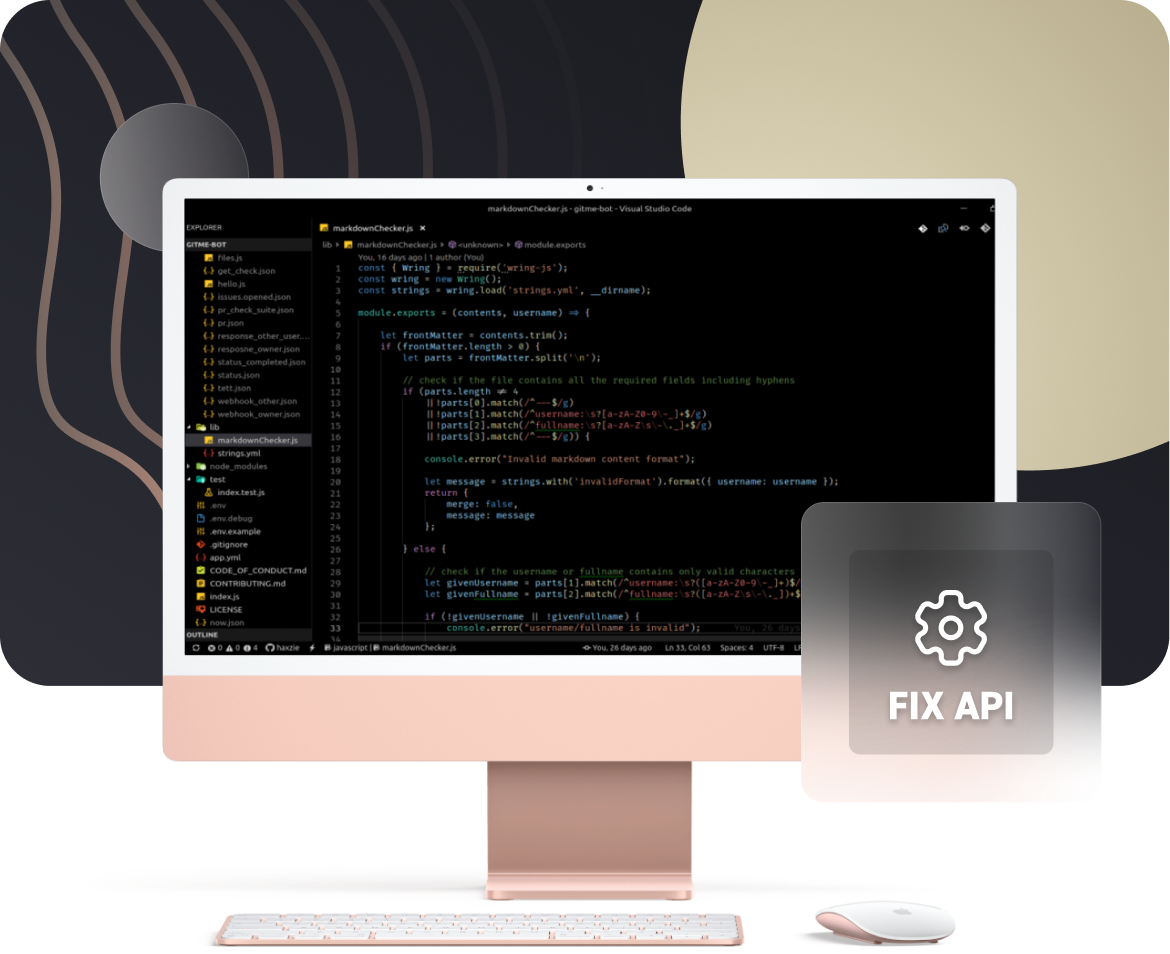 Commodities Trading -
FAQs
Commodities can be defined as raw materials and goods that are naturally sourced and can be processed for human activity or consumption. They can be divided into three main categories: Energies, Metals, and Agriculture. 
Energies are natural resources that can provide energy, such as Crude Oil and Natural Gas. Metals are mined resources such as Gold, Silver, and Platinum. Agricultural commodities are resources that are grown or reared, such as Soybeans, Corn, Cattle, and Cotton.
At Alchemy Markets, you can trade 10+ Commodity CFDs with institutional spreads and execution, no trading restrictions, tight spreads, and commissions as low as 0¹.
The most traded types of commodities globally can be found across all three commodity categories of Energies, Metals, and Agriculture. They include Brent Crude Oil, WTI (West Texas Intermediate) Crude Oil, Gold, Silver, Steel, Iron, Soybeans, and Corn.
These commodities are popular as some constitute the building blocks of the world's most in-demand products or are used in large-scale operations. For example, crude oil can be refined into petrol, diesel, petrochemicals, and lubricants, while steel is used in construction and manufacturing. Other commodities, such as Gold, are traded for their value, and Soybean and Corn are popular for agricultural purposes and consumption.
CFD stands for Contract for Difference and is a derivative. Commodity CFDs allow traders to speculate on price movements of commodities without taking ownership of the commodity itself. CFD Commodities traders can take long or short positions when they trade markets with CFDs, meaning they can find opportunities in both bullish and bearish markets. Commodity CFDs are also leveraged products, allowing traders to make the most out of their capital and gain full exposure for a small initial margin deposit.
Commodities can be traded on exchanges via the futures market or they can be traded via CFDs between you and a CFD provider. When you trade Commodity CFDs, you do not take ownership of the underlying commodity. Instead, you speculate on its price movements. For example, if you decide to trade Gold CFDs, you will not need to physically purchase gold in any form, but make predictions on the gold market's price direction.
At Alchemy Markets, you can trade the price movements of a robust range of commodities with CFDs with institutional liquidity and execution, tight spreads, and commissions as low as 0¹. You can trade the price movements of Oil, Gold, Silver, and more on the most recognised trading platforms in the industry, MetaTrader 4 and MetaTrader 5, which are equipped with superior charting tools and technical indicators. Participate in trading on desktop or on mobile by downloading the MetaTrader commodity trading apps.
Price movements in online commodity trading can be attributed to various factors depending on the underlying commodity. At their core, commodities are priced based on supply and demand. When there is a greater demand for a certain commodity than there is a supply of it, prices will rise. Conversely, if there is a greater supply of a certain commodity than there is a demand for it, prices will fall.
Some factors that can affect the supply and demand of commodities across the board are economic instability, political conflicts, natural disasters, humanitarian crises, seasonality, and production and transportation constraints.
CFD trading on Energies, such as Crude Oil and Natural Gas trading, is popular among traders as avenues for speculation and diversification.
Energy markets are volatile, and oil and gas prices can fluctuate wildly depending on surges and dips in production and consumption, global economic stability, and political conflicts between energy-producing nations and the rest of the world. CFD traders trading in oil and gas markets can easily identify and seize opportunities, and they can also make the most out of their capital with the use of leverage.
Energy CFDs are also traded when traders want to diversify their portfolios. When a trader spreads their capital across industries, asset classes, and financial instruments, they limit their exposure to a single type of risk and minimise the effects of underperforming positions. For example, a trader who invests in healthcare stocks may diversify their portfolio with crude oil trading, as the crude oil market has little correlation with the performance of healthcare stocks. By not putting all their eggs in one basket, they can prevent catastrophic losses if one instrument happens to perform exceedingly negatively.
MetaTrader 4 and MetaTrader 5 are the best Gold trading platforms in the industry and trading on MT5 is easy. At Alchemy Markets, you can trade Gold CFDs with tight spreads and institutional liquidity and execution. Simply log into your funded live account on MT5, find the symbol for Gold paired with the US dollar (XAUUSD) or the Euro (XAUEUR), and add the instrument to your charts from your Marketwatch panel. You can then place long or short positions based on your speculation.
Disclaimer
*All instruments offered by Alchemy Markets are traded in the form of derivatives as CFDs.
¹We offer commission-free trading on Forex, Indices, and Metals only. For more information on our charges on other products such as Crypto CFDs and Stock CFDs, you can visit our individual product pages.
It looks like you are based in United Kingdom
Click proceed to be taken to Alchemy Prime Limited.
Proceed